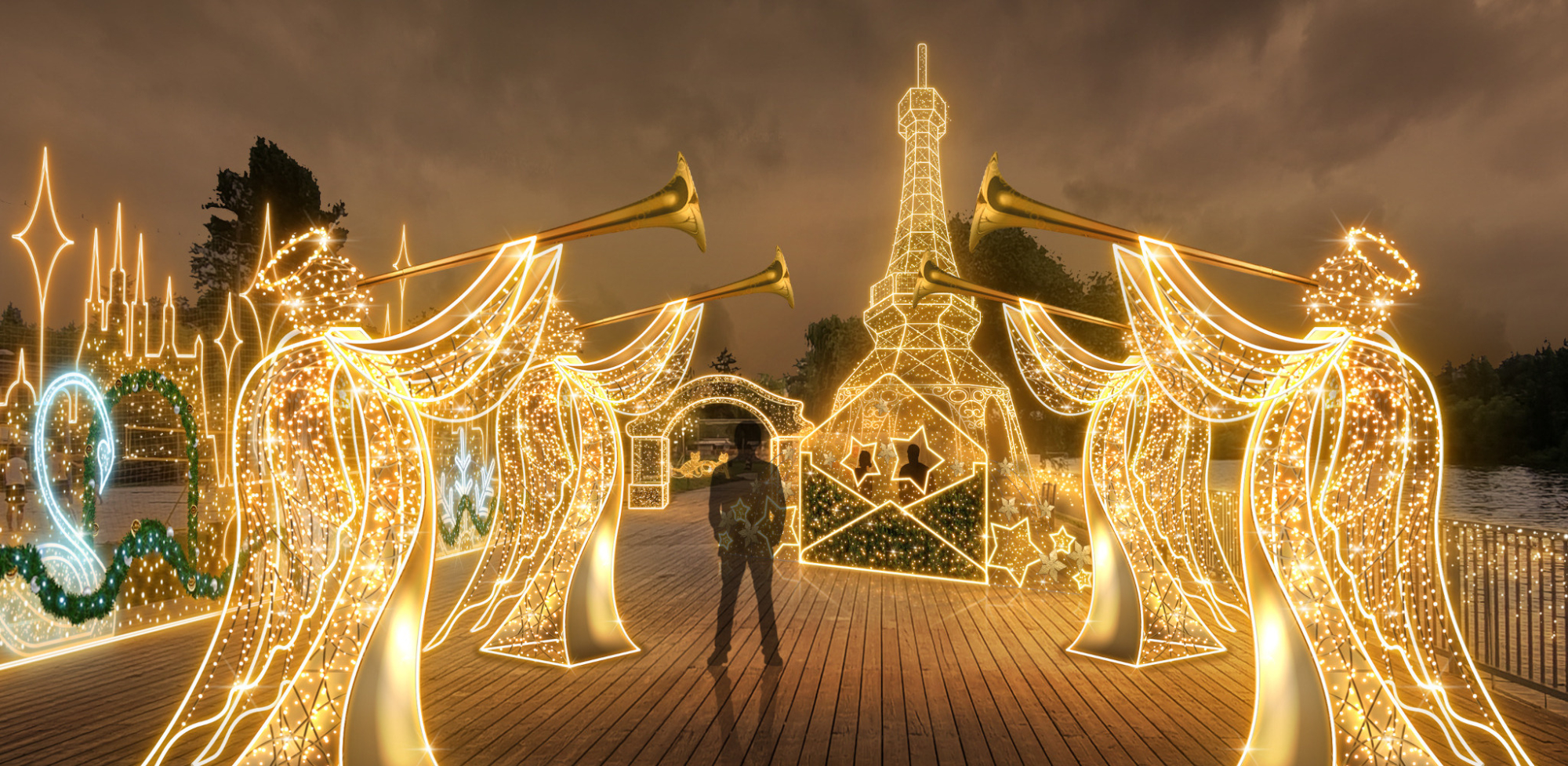 Prague park with a nine-meter Petrin tower, a helicopter and a giant swan
The flagship of the "Lights tell..." project is undoubtedly the light park in Prague's Žluté Lázně. The breathtaking area of Prague's legendary public swimming pool on the bank of the Vltava is once again packed with an extensive light exhibition and an elaborate accompanying program this year.
This year, 170 objects and decorations will be exhibited in the Prague Light Park. Only one of them, the extensive panorama of Prague, was preserved from last year. Everything else will be brand new again. As part of the exhibition, the area of Žluté Lázně will light up with 400,000 LED light diodes every afternoon and evening. As part of the exhibition, we installed 5.5 km of LED light chains.
Anyone who would argue that the operation of the park will certainly be highly demanding on electrical energy is wrong. Thanks to the top-notch LED technology of the company DECOLED, the entire Prague lighting park has only 7.5 kWh. That's the equivalent of one regular domestic washing machine!
Among the nearly two hundred light objects on display, the dominant one is undoubtedly the replica of the Petrin Tower. It reaches a height of 9.2 meters. It is 4 meters wide and weighs a respectable 344 kg. The tower covers an incredible 16450 LEDs.
Kids will no doubt love our red helicopter. This detailed sculpture was made in only two pieces and you can find it in Prague or in Chemnitz, Germany. The helicopter is 6 meters long and 4.5 meters high. It weighs 199 kg and is covered with 6610 LEDs. The machine is open to visitors. Children can play in it and you will get the most original photos, for example for your family's New Year's PF.
The third landmark of the Prague Light Park is our largest swan. This symbol of love and loyalty reaches respectable proportions. The swan is 4 meters tall, weighs 153 kg and its body is covered with 8215 LEDs.
The Prague Light Park in Žluté Lázně is a wonderful experience for the whole family. Children have a great accompanying program, creative workshops, animators and a fun trail with a map. Adults here will experience a wonderful atmosphere for a romantic walk and creating unique photos. Bars, stalls and refreshments are a matter of course. If you want to bring your experience afternoon or evening to perfection, we recommend also purchasing a one-hour illuminated boat cruise on the Vltava.
We look forward to your visit.
Your "Lights tell..."team is told by... Prague